Astronomy meets Amateur Radio!
Location and dates of exams for registration page below are as follows:
2813 Banks Road, Raleigh NC 27603 Saturday 10/8 10:00 AM

2813 Banks Road, Raleigh NC 27603 Thursday 10/20 10:00 AM

129 North Main Street, Wendell, NC 27591 10/22 1:00 PM
Registration for the exams are required. Please register at FCVET Study Tips and Registration page
***NOTICE FRN required to be obtained prior to exam day due to issues experienced at recent weekend testing session….
The new FCC application fees are effective on Tuesday 4/19/22. The fee is paid to the FCC. The fee is not for your amateur radio exam. The exams listed on this page are administered by the Laurel VEC. They do not charge a fee for the exam.
Thank you for your inquiry. For a listing of free exams in you area see The Laurel VEC website.
If you get stuck in any part of the process you may contact me. Email is my preferred contact method fcveteam@gmail.com. You may call or text Mark Gibson(N4MQU) between 9:00 AM and 8:00 PM at (919)614-6822.
Please visit my YouTube or Rumble channel
My latest video
Working Smarter: Sorting your parks
FCHRE First Amateur Radio Workshop
The FCHRE Amateur Radio Workshop was a huge success. Read the article
FCHRE Participates in JOTA 2021
Take a look at this video of our activities. It includes a look at deploying a dipole with a potato gun and a scout talking to Germany!
Parks on the Air Activation
A couple of our members practiced their amateur radio skills by setting up their radio at a local campground see the story POTA Activation 2021 Raven Rock
In The News
East Wake Television featured Amateur Radio on a recent video. You may recognize a couple of our members.
Sky1 interviewed the FCVET at JARSFEST. .
No license required to be an amateur astronomer!
3 John 1:13 I have much to write you, but I do not want to do so with pen and ink.
Check My testimony page.
Climate Change and Light Pollution what you can do!
powered by Ambient Weather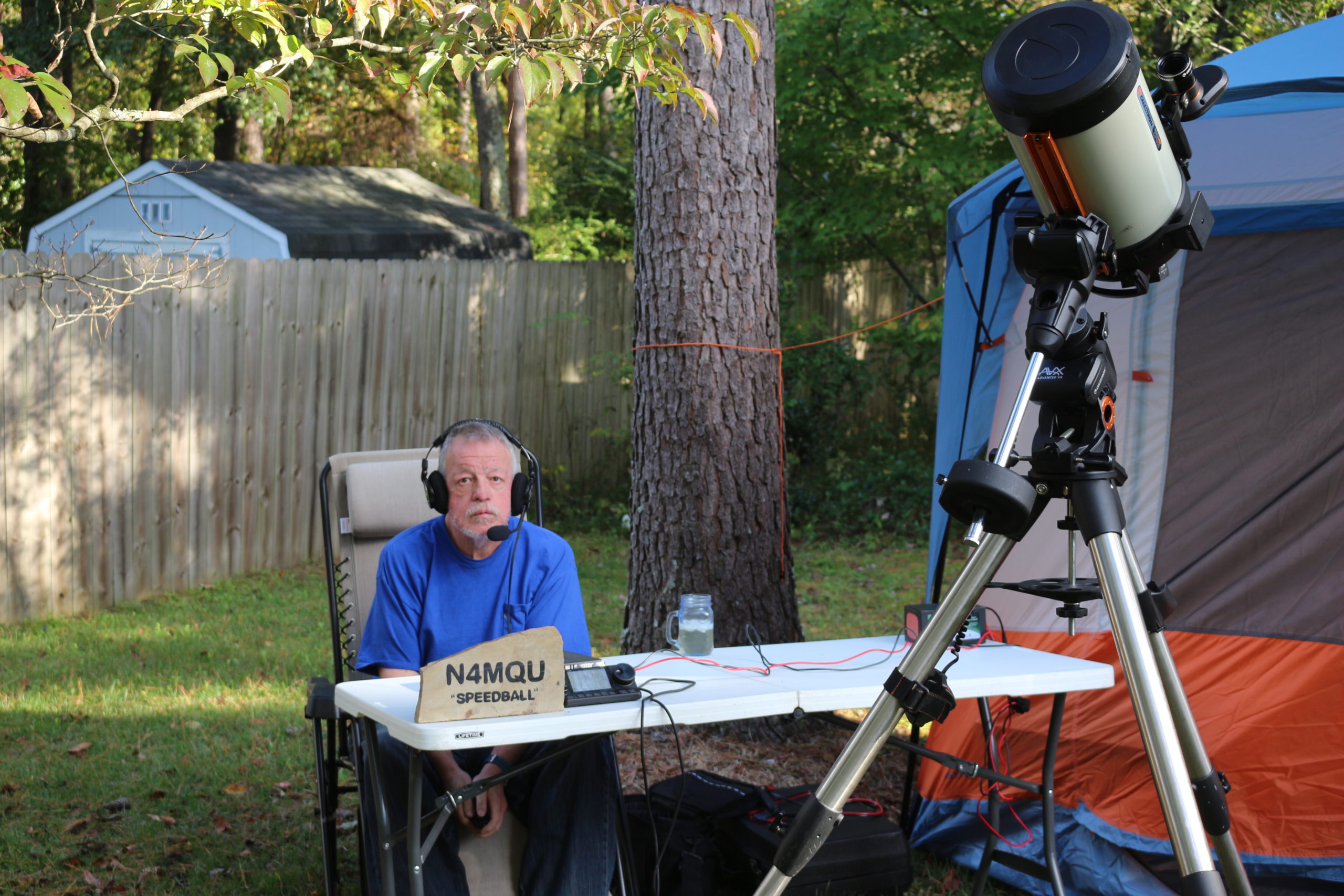 These hobbies have more value than just what you may think. Both hobbies uses Universal Time to schedule activities. Both hobbies are dependent on the atmosphere in one way or the other. Sunspots are monitored by both hobbies. We will be able to hold these at the same time and yet separately. In a large field is the perfect place to set up a radio, and it is also the perfect place to set up a telescope.
A Facebook group was started and it had 70 members the first week. The news service Amateur Radio Newsline did a story on the new group highlighting the Raleigh Astronomy Club as part of the story. The original story is here. The news service also re-formats the broadcast for the popular internet show Ham Nation. We were in the lead story there. Some of the members of the group monitor with Amateur Radio on the Carolina 440 UHF Link System using the local Raleigh area repeaters and its other extended linking abilities with DMR on TGIF talk group 440, AllStar 42235 and Echolink node 42704. I check into the weekly Five County net on Sunday's at 7:00 PM.
Be sure to visit my YouTube channel "Detecting the Invisible" You will see topics on anything from astronomy to metal detecting.
Amateur radio operators from all over the world can use the internet to connect to each other. My call sign is N4MQU.