Our Next Free Amateur Radio Exam is by appointment only.

Thank you for visiting my website n4mqu.com. Adam was the first astronomer visit my bible commentary page here. I am a sinner saved by grace. John 3:16 For God so loved the world, that he gave his only begotten Son, that whosoever believeth in him should not perish, but have everlasting life. If I may be of service in answering questions in this area please let me know. Click on My Testimony page for more of my testimony.

I am a native of Norfolk, VA, happily married to my wife Linda. We have a daughter who prefers to remain anonymous. I am a retired office worker. I have worked or contracted for many different companies either involved with international logistics or a database programmer. I often wondered at this point why I couldn't say I've Retired from XYZ after 30 years of service. I guess that's not me. If you have a need for someone experienced in logistics or database programming like getting your office data streamlined I am available for contract or regular employment. I have a passion for office automation. If I see a procedure that can be automated I will tell you about it. While working for a franchise owner of 300 Jiffy Lube stores I automated the reconciliation of credit card transactions versus store transactions. This allowed the process of reconciliation errors in minutes versus hours of time manually checking the data. See my LinkedIn profile.
While I was living in Norfolk, my neighbor across the street Mr. Tobin was involved in the local astronomy club. He allowed the children in the neighborhood to view astronomical objects thru his homemade refractor. In 1970 I saw my first solar eclipse with his 4 1/4 inch telescope. When he passed away I ended up purchasing the telescope from the estate. I am the content manager and member of the Raleigh Astronomy Club . See my Amateur Astronomy menu for details on my astronomy activities.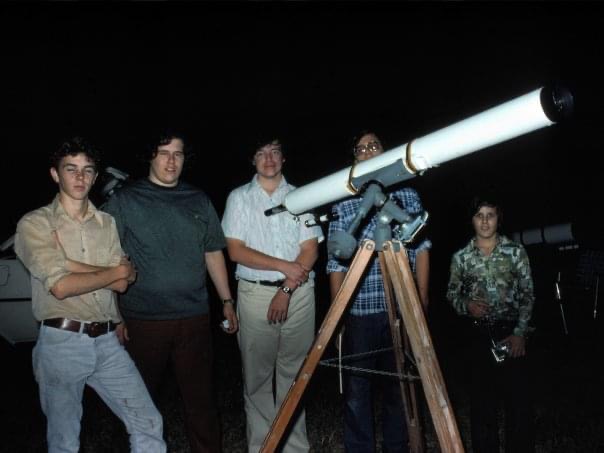 Back in the late 70's I was attending an astronomy event with telescopes set up in a rural area in Virginia. My friend needed to call his home and at this time there were no cell phones like we have now. There was a ham that was attending the star party and he pulled his HT out and made the call. I was impressed. Using my friend and his brother as elmer's (The Wright brothers Don WW4RF and Jerry WA4GUU). See Don and Jerry's work at https://www.ww4rf.net/. That's right it took two people to get me up to speed. I learned Morse Code and some technical terms and took a test and received my novice license. Amateur radio in the US does not require morse code to get your license but I am very happy that I learned it and still know how to use it. A job opportunity moved me to Raleigh where I eventually upgraded to General, Advanced and now Extra class license. Upon moving to a home in Angier, I had to put up an antenna. My landlords 12 year old son volunteered to climb the tree to put up the antenna. It turns out he is now a ham Ryan Avery NC4RA because apparently he was impressed by the hobby. I had lost touch with the family until I had met him on the radio. He remembered listening to the rebroadcasts of the space shuttle that the hams were doing at the time. I enjoy many different operating modes in amateur radio. I enjoy checking into the Virginia Fone Net and my number is 72. I am the net control station for the 4pm net Wednesday. This net is held each evening at 7:30 PM and 4:00 PM on 3.947 MHz. I am also a member of Bandhoppers and a net control station. My number is 19. Bandhoppers merges social media and ham radio to encourage operating on different modes. We have a regular net on various frequencies on Thursday night. I started a new group called Astronomy Meets Amateur Radio. This group is for individuals interested in astronomy and amateur radio.

I am the team leader for the Five County VE Team. Be sure to find the nearest free amateur radio testing near you. For tips on getting your amateur radio license visit the Five County's Steps to Tech website. Go to my amateur radio page for details on my amateur radio activity.

I also participate with two radio clubs Five County Ham Radio Enthusiasts(FCHRE) and Johnston Amateur Radio Society (JARS)If you are in the central North Carolina area be sure to check out both places.
I usually monitor the Carolina 440 repeater , the JARS 147.270 and either 146.52 or 146.58 simplex frequency. I am also interested in medal detecting and listening to the scanner . I also enjoy photography and use a Cannon T5i camera. My photography is displayed on all the webpages that have video or photographs. Below is a 8 minute movie I made of the fire we had in the pit during the shutdown period of the Covid-19 pandemic. Hope it relaxes you. I have a YouTube channel. Feel free to send me an email at markgibson6822@gmail.com .