By: Mark Gibson (N4MQU)
How is it possible a person could operate a amateur radio station legally from the radio quiet zone? The humanity of it all operating a radio within miles of the Green Bank WV Radio Telescope. I hope to correct any misconceptions in this article about operating from the National Radio Quiet Zone.
I joined the Parks on the Air (POTA) program in October 2021 and was surprised I had already received some awards. I received these awards by communicating with stations asking to speak to other stations by calling CQ. This means I want to talk to other amateur radio operators.
I discovered a POTA park near the Radio Telescope that we were visiting. I take things too literally. When my friend a consultant with the National Science Foundation on matters of Radio Astronomy convinced me it was okay for us to operate from the radio quiet zone we did so. I was under the perception that we could not transmit in the quiet zone. That was totally incorrect.
§ 1.924 Applicants and licensees planning to construct and operate a new or modified station at a permanent fixed location within the area bounded by N 39°15′0.4″ on the north, W 78°29′59.0″ on the east, N 37°30′0.4″ on the south, and W 80°29′59.2″ on the west must notify the Director, National Radio Astronomy Observatory, Post Office Box No. 2, Green Bank, West Virginia 24944, in writing, of the technical details of the proposed operation. The notification must include the geographical coordinates of the antenna location, the antenna height, antenna directivity (if any), the channel, the emission type and power.
Another Document my friend sighted goes into more detail.
We did try to contact 10 stations in order to what they call Activate the park but unfortunately I didn't log one of the stations call sign down.
My first solo park I activated was in Virginia shortly after I attempted the WV Park.
Here is some information on a POTA event you may be interested in participating in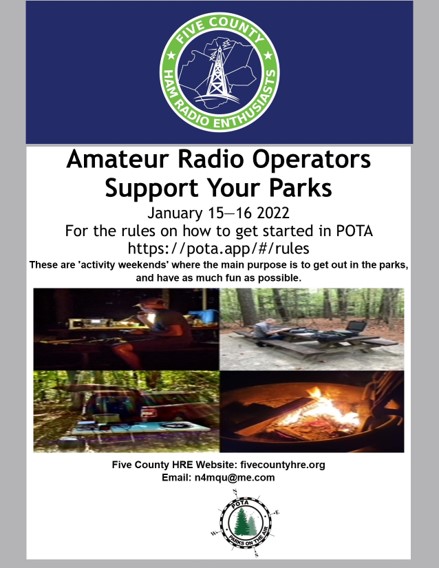 Here are some other stories I am contributed to about portable operation of amateur radio.
Take a look at this video of our activities. It includes a look at deploying a dipole with a potato gun and a scout talking to Germany!
A couple of our members practiced their amateur radio skills by setting up their radio at a local campground see the story POTA Activation 2021 Raven Rock